Wiedenmann duo assists Ladybank GC with heather regeneration quest
Wednesday, 22 December 2021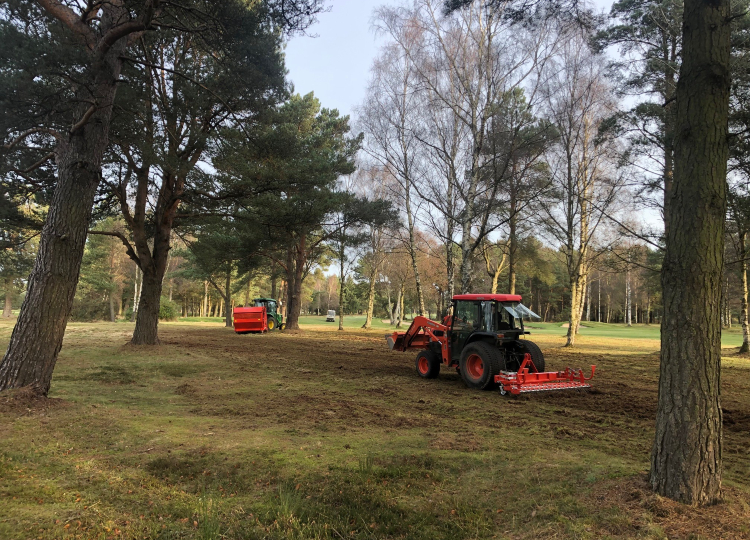 In a corner of the UK where there are many remarkable golf courses, Fife's Ladybank Golf Club, sets the bar high. Designed by Old Tom Morris in 1879, and venue for final qualifying for The Senior Open in 2018, Ladybank, has quintessential charm.
Grant Frogley, who joined as Course Manager in August 2021, is conscious of a responsibility to manage golf and the native flora and fauna in harmony across the site.
"We are a true heathland course. I consider this our USP, especially in Fife. Golf must be sensitive to the habitat. Take the red squirrel on our club badge, for example. It might be in decline nationally, but it thrives here. Our woodland policy will naturally promote pines and silver birch, trees the red squirrel favours. Our work is to tie all these strands together."
One of Grant's first major projects is a programme of heather regeneration, requiring a three-to-four-year timeline to invigorate existing plantations and establish new growth.
"Heather is very much 'in play' at Ladybank; it's a feature of the golf course which claims many golf balls," explained Grant. "It predominantly lines the fringes of the fairways on many holes. The acreage of existing areas isn't known, so part of our new process will be to measure so we can benchmark it year-on-year to chart its increase."
"Not long after I arrived, I ordered a 2.3 m Wiedenmann Terra Rake from Mike Lindsay, Area Sales Manager at Fairways GM. It partners the Wiedenmann Super 500, which I was pleased to inherit. These are my machines of choice for heather management. Previously as Course Manager at the Roxburghe I purchased a Super 600, so was familiar with that machine, but the Terra Rake is invaluable."
"Much of our heather is in a mature state. Plants are 25-30 years old, not at the degenerative stage but now is the perfect time to act. Unattended heather can become too old for intervention, the canopy begins to open and invasive species, like gorse and broom, appear."
Already Grant, and his team of seven, have conducted a host of separate operations.
Heather seed is traditionally collected from the end of October, once heather flowers have faded. Conventionally, rogue grasses that stand taller than the heather plants are removed from the plot where the seed is gathered. The Super 500 fitted with flail blades then cuts and collects the heather pods, or brash. The valuable brash is respread on existing or new areas.
"In other places we are topping it off and continue to collect more seed. Cutting heather back is an important part of our plan. It means we will return it to that 'building stage' of its growth cycle; so next season, it remains youthful, and when it flowers, we would hope to see it with a better, more vibrant colour."
"We have also gone into several of the fringe sections of the fairways, and only partially topped them off. We're mindful that heather plants at varying life stages creates a more consistent habitat for wildlife."
"At edges of the fairways within the playing corridors, places where we don't want to strip the vegetation, the Terra Rake is the perfect tool for raking and scratching the surface to break the canopy, to expose the existing seed beds without us losing the vegetation."
"Next stage is looking at and preparing areas where we can respread that seed. We have some techniques up our sleeve which include the Terra Rake, but heather management will always be a continuous cycle."
"Still on the theme of promoting the habitat, we are introducing some wildflower areas which will prosper while our heather flourishes. Similarly, our programme of good woodland management will also get underway. These are all great projects to start in my first six months here," explained Grant.