Jacobsen AR522 for The Alyth GC
Friday, 20 March 2020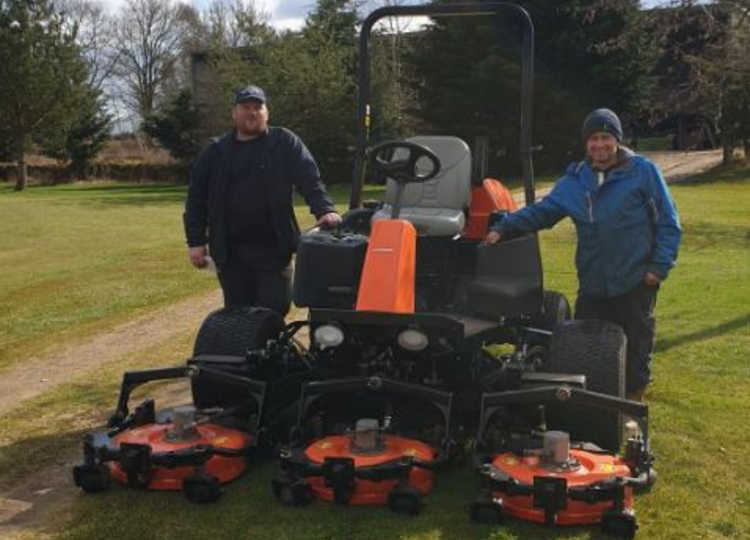 The last installation before lock down for Fairways GM's Mike Lindsay was to Chris Lorimer (left) and Dale Robertson of The Alyth GC. They took delivery of a Jacobsen AR522 contour rotary mower for their two courses The Alyth (18 holes) and The Glenisla (9 holes). With its five fully floating decks the AR522 is ideal for rolling undulations as it glides smoothly over the hilly terrain and doesn't scalp. 
"An 18-hole (6,259 yd) heathland layout, Alyth Golf Club was established in1895. The original 9 holes were designed by the master Old Tom Morris of St Andrews with James Braid completing the extension in 1934. Playing the course demands constant attention as a combination of tree lined fairways and diverse rolling terrain make the emphasis on precision golf rather than distance, although both are required." –  www.alythgolfclub.co.uk
"The AR522™ five-gang rotary mower equipped with SureTrac™ four-wheel drive traction, weight transfer control, and TrimTek™ decks allows you to glide over contours and climb hills with ease. Ideal for maintaining intermediate golf roughs, greens and tee surrounds, and sports and recreational fields." - www.jacobsen.com
Fairways GM is the exclusive dealer of Jacobsen equipment in Scotland, please contact us for more information.