The future is upon us
Wednesday, 27 October 2021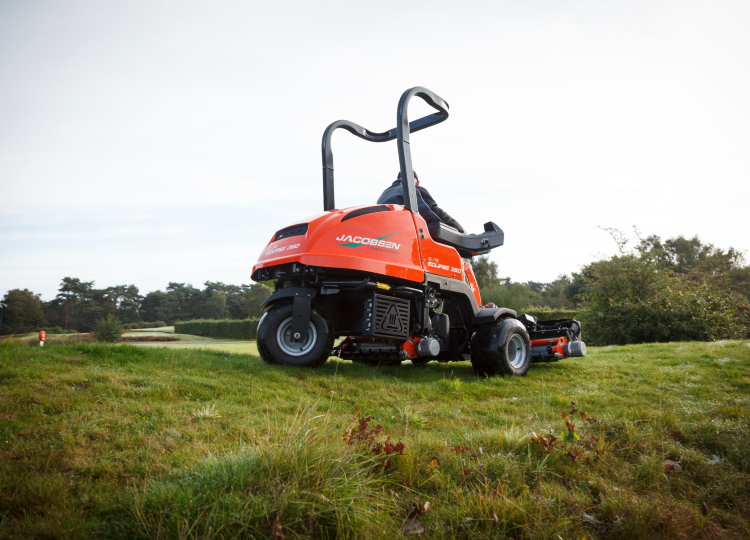 The new Jacobsen Eclipse 360 ELiTE combines the new generation of ELiTE lithium-ion batteries along with Jacobsen's legendary quality of cut which has been 100 years in the making.
The future is upon us, Jacobsen have launched the brand-new Eclipse 360 ELiTE; a fully electric greens mower which offers excellent usability, functionality, ease of use, ease of maintenance, user ergonomics, quality of cut and battery range. This machine represents a technical revolution in the market place and brings new innovations to the market at a competitive price point.
This machine sets the new standard for quality of cut and finish.
This electric machine is environmentally friendly in more ways than one; it is kind to the global environment in terms of carbon emissions and is also kind to the local environment when in use. Levels of noise pollution are extremely low meaning that this machine can be used at any time without causing a disturbance.
Jacobsen have been building Eclipse mowers for over a decade, this wealth of experience shows in the quality and performance of the new 360 ELiTE. The quality of cut that this machine achieves is made possible by the patented Frequency of Clip Control system which cleverly links reel speed to forward speed. This system allows for a consistent frequency of cut which is one of the key factors driving quality of cut with this machine.
The 360 ELiTE utilises ELiTE batteries, these are the same type of lithium batteries which have been used in E-Z-GO vehicles for years, ELiTE batteries have powered E-Z-GO vehicles for over 15 million hours to date and are therefore very well proven.
This battery technology allows the 360 ELiTE to cut more than fifty large golf greens on a single charge! This represents an excellent technical achievement which makes the machine not just a high performer, but also a very practical proposition to customers.
The Eclipse is designed with ease of maintenance in mind, its swing-out centre cutting unit allows for quick and easy cleaning and maintenance. The unit can be swung out after removing a lynchpin which can then be used to secure the unit in place whilst it is cleaned or worked on. When the unit is ready to be put back into the cutting position the process can be reversed so that the machine can be set for work once again. This feature is unique to Jacobsen machinery.
The Eclipse 360 ELiTE is available with 7, 9, 11 or 15 blade reels which makes the machine highly suitable for numerous and varied applications including golf greens as well as tees, sports pitches and other areas of fine turf.
This new machine which will be built here in UK at Jacobsen's Ipswich plant.
Fairways GM is the Jacobsen dealer for Scotland, if you would like to find out more about the Eclipse 360 ELiTE please feel free to get in touch on 0800 028 1700 or at sales@fairwaysgm.com.