Bishopbriggs GC keeps early noise to a minimum
Thursday, 11 May 2023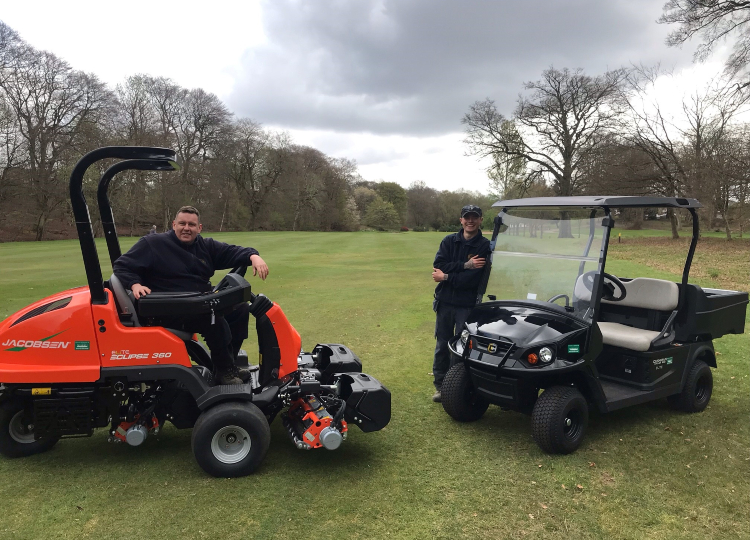 Two super quiet lithium-powered machines from dealer, Fairways GM at Renfrew, are keeping noise to a minimum at Bishopbriggs Golf Club.
Not waking the neighbours is the primary reason for the double purchase of a Jacobsen Eclipse Elite greens mower and a Cushman Hauler Pro by Course Manager, Ian Anderson, and his greenkeeping team of five.
"We are conscious our first four holes are adjacent to housing," explained Ian. "Working these new units in tandem to do early course set up, means we can operate close to the club house without disturbing residents."
"Until now, we've had to make our way out to the 5th to start work, adding 10-15 minutes in travel time before we begin. The new set up means we can quietly follow holes in order starting at 18 at the clubhouse, then do 1-4. We don't have to come back on ourselves, we avoid arriving golfers and can be more productive in those first few hours. I reckon we are at least 30 minutes' ahead every day, so it will be much easier to stage events once we get into our stride."
"Another reason for buying the Eclipse was our ongoing quest to move greens' quality and presentation up another level," said Ian.  
The Jacobsen Eclipse has a hydraulic-free design and proven ELiTE lithium battery, and is billed as providing "the greenest, quietest and highest quality Jake signature cut".
"The cutting standard is excellent; it strengthens our fleet... Our GP400 is getting refitted with seven blade units to do our tees and approaches, so there is a knock-on benefit across the course as our equipment improves."
According to Ian, the Cushman Pro hauler offers even greater power, more quietly than before.
"It's perfect for doing a long list of little jobs. Hole changing, transporting people and tools can all be done effortlessly, more quickly and quietly."
Fairways GM's Stuart Cameron installed both machines and delivered familiarisation training.