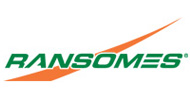 Ransomes Jacobsen's long history begins in 1789 when Robert Ransome started his iron-foundry business with only £200.
In 1832 Ransomes built the world's first lawn mower, the "Buddings Patent" and a turf care industry leader was born. Since then, Ransomes has taken pride in providing superior quality turf maintenance equipment to customers around the world.
Ransomes Jacobsen has produced some of the industry's most important firsts including:

•    The first petrol lawn mower in 1902
•    Britain's first battery-powered electric truck in 1920
•    The first walking greens mower in 1923
•    The first rotary mower for home use with four reversible cutting blades in 1955
•    The first tractor-mounted, power-driven, five unit gang mower in 1964
•    The first riding greens mower in 1968
•    The first self-propelled high work rate ride-on triple mower in 1974
•    The first turf groomer in 1986
•    The first all electric triple mower in 1994
•    The first magnetic bedknife in 2004
•    The first hybrid walking greens mower in 2007 
•    The first hybrid riding greens mower in 2009
•    The first triplex mini flail mower in 2013
Product Range
Today, Ransomes is still innovating and is recognised for its range of high quality turf care equipment. Ransomes machinery is extremely durable and is built here in the UK, the machines are assembled in the worlds oldest motorised mower factory which is situated in the town of Ipswich.
To find out more about Ransomes machinery you can visit their website and/or get in touch with our team, you can email us at sales@fairwaysgm.com or call us on 0800 028 1700.
We sell a wide range of products under the Jacobsen, Ransomes, EZGO, Cushman, Smithco, Turfco and Ryan brands.
http://www.ransomesjacobsen.com/