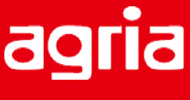 Agria UK is a sister company to Fairways GM and Wiedenmann UK.
Agria was established near Stuttgart over 70 years ago. Originally for agriculture, it changed paths to cover soil cultivation, green space maintenance and pavement cleaning. Still prominent in these sectors, their German engineering has gained them a worldwide reputation for handheld multipurpose machines. Now their hybrid bank mowers are an exciting development and will be the specific focus for Agria UK.
We can offer you their range of two unique hybrid remote-controlled rotary mulching mowers. 
Product Range
Both Agria banks mower machines offer Hybrid-Drive-Concept, making them more efficient and environmentally friendly than hydraulic concepts. 
The new version Agria 9600, with its low centre of gravity and rubber tracks, powers safely through heavy duty work on steep slopes up to 50°. In two widths, 112 cm and 80 cm, it cuts and mulches in two directions and is effortless on a variety of applications, including fine turf.  
The Agria 9500 is a remote controlled compact mower which performs on slopes as steep as 45°. With brush-less motors and electromechanical braking it takes manoeuvrability to a new level. It has a working width of 70 cm and takes problem areas in its stride.
https://www.agria.de/en-gb/