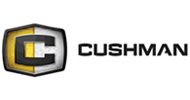 What began with two cousins building farm machinery and two-cycle boat engines in 1901 is now the manufacturer of the broadest line of utility vehicles on the market.
During World War I, Cushman provided two- and four-horsepower engines to operate water pumps, cream separators, washing machines and wood saws. By World War II, the company was producing scooters used by the Navy, the Army and the Army Air Force.
Today, more than 100 years after the first engine was shipped out of the Lincoln, Nebraska plant, the Cushman brand is still providing rugged and dependable solutions for a variety of industries. Cushman brand vehicles are now manufactured by Textron Specialized in Augusta Georgia. With the ever-expanding resources of Textron Specialized Vehicles' parent company Textron, known for its innovative transportation solutions and manufacturing excellence,  the Cushman brand continues to grow. The company continues to build on its reputation for delivering quality, heavy-duty industrial material carriers, dependable utility vehicles and comfortable personnel transport vehicles.
Product Range
Cushman brand commercial and utility vehicles are known around the world for versatility, durability and dependability. We offer a complete range of heavy-duty, industrial material-handling vehicles, comfortable personnel transport and food & beverage vehicles. Gasoline- and electric-powered models plus an extensive list of options and accessories make Cushman the most versatile choice in utility vehicles.
https://cushman.txtsv.com