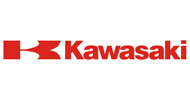 Kawasaki is a company that is governed by the following principals:
Trust
As an integrated technology leader, the Kawasaki Group is committed to providing high-performance products and services of superior safety and quality. By doing so, we will win the trust of our customers and the community.
Harmonious Coexistence
The importance of corporate social responsibility (CSR) permeates all aspects of our business. This stance reflects the Kawasaki Group's corporate ideal of harmonious coexistence with the environment, society as a whole, local communities and individuals.
People
The Kawasaki Group's corporate culture is built on integrity, vitality, organisational strength and mutual respect for people through all levels of the Group. We nurture a global team for a global era.
Strategy
The Kawasaki Group pursues continuous enhancement of corporate value based on emphasising quality over quantity; and employing prudent risk management.
Product Range
The company manufactures a broad range of products, including motorcycles, ATVs (all-terrain vehicles), recreation utility vehicles, as well as utility vehicles and supplies them to markets around the world.
https://www.kawasaki.co.uk/en/products