Ferris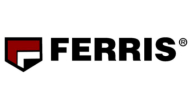 The Ferris® brand was born with a built-to-last commitment which continues today along with a history of impressive innovations.
From the industry's first ever hydrostatic drive walk-behind lawn mower to the industry's first and only patented suspension system for the riding lawn mower, Ferris continues to innovate. 
Ferris® pride themselves on building reliable commercial mowers which are productive and ensure a high quality of cut. Beyond manufacturing mowers that will provide years of service, Ferris® continually look for ways to improve not only their products, but their customer's satisfaction.
Product Range
Ferris products are:
EASY TO DRIVE
FUN & COMFORTABLE TO USE
RELIABLE
VERY SAFE – NO HAV/WBV LIMITS
HIGHLY MANOEUVRABLE
Ride-on, stand-on and pedestrian mowers are available, spend five minutes using a Ferris® mower and we know you'll be impressed.
You can contact us on 0800 028 1700 or at sales@fairwaysgm.com for more information about Ferris®.
You can find more information about Ferris® products below:
https://www.ferrismowers.co.uk/